Balustrades
Bespoke Wrought Iron Balustrades
Enhance your home with our
wrought iron balustrades
Unique Wrought Iron specialise in the design, manufacture and installation of hand-forged wrought iron balustrades throughout Australia. Our wrought iron balustrades can instantly add style and security to your property while enhancing its aesthetics.We offer a range of styles and finishes. From simple to intricate, we can design your balcony balustrades to your exact specifications and bring your vision to life.
Wrought iron balustrades can transform your stairs and make them the central feature of your property. For decades, designers, builders and homeowners have relied on metal balustrades to improve the design of balconies and staircases.
Professionally designed and expertly hand-forged, our wrought iron balcony balustrades make for a sound investment as they enhance the beauty and value of your property. What's more, wrought iron offers excellent structural strength, malleability and durability.
What we offer
Choice of simple, intricate or premium combinations.
Constructed using black etched wrought iron for weather resistance.
Designs to suit every staircase style.
Solid or tubing balustrades.
Customised to suit your requirement and specification.
Each bar is evenly spaced and welded.
Our balustrades meet the building regulations in Victoria.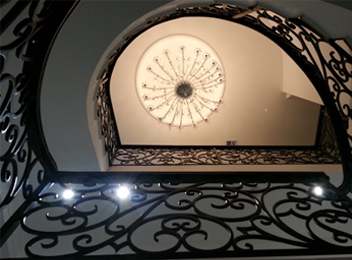 Premium Quality Wrought Iron Balustrades
Wrought iron is a sturdy and classic choice for balustrades. Wrought iron balustrades can elevate the design of your home – elegant and romantic, rustic and classic or contemporary and modern.
With in-depth knowledge and over a decade of expertise, our blacksmiths pay attention to the details to ensure your balustrades stand the test of time. We specialise in our own two-bake paint process, a finish that guarantees unparalleled results.
Creative Balustrade Designs
Our experienced design team will work with you to create a balustrade design that speaks to the architecture and style of your home.
Whether you have a specific design in mind or need inspiration from our previous projects, we will take the time to understand your vision, provide sound advice and design your custom wrought iron balustrades to ensure we meet your specifications.
Outstanding Craftsmanship
At Unique Wrought Iron, we take great pride in our skilled craftsmanship. Creating ironwork that lasts for years requires attention to detail.
We exclusively use premium material and time-tested techniques handed down over generations while also using new technology to create a timeless finish that meets the highest safety standards – built custom to suit your space.
recent projects
Our latest installations
Testimonials
What our clients
have to say
Ohhh my goodess – ive honestly never had dealings with anyone in customer service that was as wonderful to deal with. Patience was on a whole new level! Sharon's ideas and creativity helped me through the process! She was always available and always so friendy and bubbly to deal with. I would HIGHLY recommend her to anyone looking to complete their dream look on their home. Sharon you are amazing!
Lisa Totaro

Fantastic professional Company – we have now purchased our second beautiful security door, the design and installation again went as per schedule .The installers did a most fantastic job,some of the best tradesmen i have seen.Not only is this door for security but has also put a class value on the property.Go and check out their showroom ,a great group of people .
William John Vandermeer

We have just had our new front door installed to and to say we are pleased is an understatement. The whole process has been amazing, the staff are great and the quality is exceptional. Thank you for helping to change the look of our home.
Delphi Anderson

We have just had our new front security doors installed and we are truly amazed by the quality and beauty, they have added great value to our home, we love them.
The whole team at the Tullamarine showroom were always very pleasant and helpful. Thank you for providing a great product and service.
Sid M.

The team at Unique Doors are fabulous and their product is truly beautiful. We had our doors installed and the finished product was beyond our expectations. We expected a good result but the reality is amazing. The installers were professional in both their workmanship and the quality and finish of our installation. Thank you one and all.
Sylvia S.